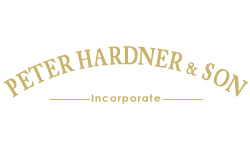 Celebrating Over a Century of Service
Since 1913, Erie area families have trusted Peter Hardner & Son to help them get their lives back after a disaster. Family owned and operated, they have built a reputation of Integrity that remains today.
We are grateful for the continued support of so many customers, insurance adjusters, subcontractors and vendors for the part they play in our service to the Erie area. -Bob Schroeck and Gene Krahe (co-owners)
Property Damage, Tree Damage & Water Damage Repair in Erie, PA
Peter Hardner & Son began in 1913, when Peter Hardner opened his contracting business in Erie, PA.
As years passed, Peter worked hard, and his reputation for quality work grew. After a few years, he was joined in the business by his son, George L. Hardner, who became his partner.
By February of 1930, Peter Hardner was ready to retire, and the partnership was dissolved. George L. bought the business from his father, and continued to expand his business, all the while maintaining the reputation of integrity and quality that his father began.
Twenty years later, in 1950, when he was ready to retire, George L. Hardner turned the business over to his son George W. and his brother Raymond Hardner. After a few years, Raymond retired, and George W. Hardner became the sole owner.
David T. Hardner began working with his father, George W. Hardner in 1971.
In 1979, the business became Incorporated as Peter Hardner & Son, Inc.
George W. Hardner retired in November of 1990 and his son David T. Hardner bought the business from him at that time.
In 2016 Bob Schroeck and Gene Krahe (both long time employees of Peter Hardner & Son Inc) stepped into their new role as co-owners. Now over a year later, Bob and Gene are grateful for the opportunity to continue serving their hometown in this new role. 
After suffering the trauma of fire, flood or windstorm damage, you need a contractor that you can trust. No other area contractor can match the broad range of experience, and depth of expertise, that we offer. Let us handle all of the details of rebuilding, while you and your family move forward with your lives.
Call us today! 814-454-5110